I cant beleive it after about 2 years ive scrapped several 12 x 12 pages today. As many of you who read my blog (if there are any of you, LOL) will know i look after my cousins little boy Dylan. It just happens to be his first birthday next Sunday so as tradition goes with all my nieces and nephews they get a scrapbook of their first year, i have made the odd mini book etc but its been an age since i done this size. After my first page i was back into the swing of things and i got 5 pages finished, im just waiting on his mum to bring me a few more pictures and them hopefully i should get it finished by Sunday. I also had a few card orders to complete so they are done as well. So all in all a good productive weekend, and its all thanks to craft day on QVC as i was feeling mojo less untill i sat and watched a few hours, then it gave me the ispiration to have a sort out of my supplies and rearange a few things, and thus my pages and cards were created.
Here are the other 2 cards ive made
the rock chick card has a guitar pluck covered in glossy accents, it wasnt quite dry when i took this pic so it looks a bit milky but now its fully dried and fully cleared and glossy.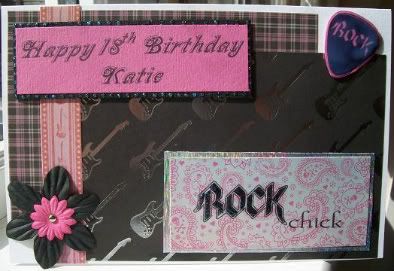 Ive also got a little more news i got myself a part time job 16 hours a week in between looking after Dylan, ive always worked so when im not i get a little house bound after a while so i feel the need to get out and work, im working in greggs at our local town centre, no hassles no stress just go to work come home no worries and a decent weekly pay packet to spend on lovelies.