Im home after a wonderful week in Devon, the kids absolutly adored it and we loved it too, we did so much in a week i will be talking about it for ages when i keep remembering little snipits.
Im still in the process of getting through all the washing 2 very big suitcases full, every year we normally go abroad to various places so i know all we need are t.shirts, swimsuits etc, but because we were holidaying in this country we had to be prepared for every eventuality so the suitcases were jam packed full, however we only had rain for one day so i could of gotten away with just packing the shorts and t.shirts.
Enough about the hols onto crafting things, here is a card ive made with one of my new images that will be available shortly over at
Spiral Whisper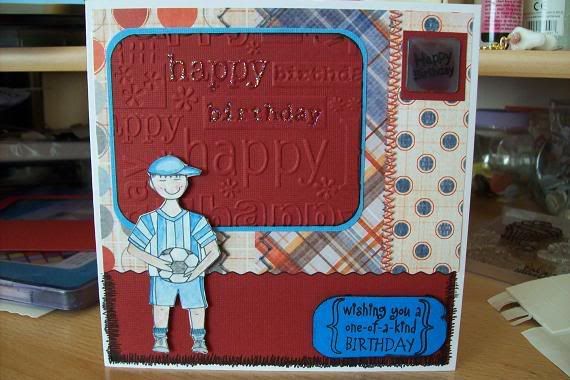 there is a compitition running at the moment to name my 2 new characters, you have untill 14th July to name them and there will be blog candy to give away to the winner so what are you waiting for head over to the
Spiral Whisper
blog to see what its all about.
Ther are lots of other sneak peaks too from lots of other talented designers and new stamps will be released often, pre orders for some of the new stamps will be opening on 14th July with the website going live and sending out orders on 21st July so dont miss out keep it bookmarked.