I was up real early this morning as it is Ashleighs first morning at secondary school, we have been having a sleep in all of the holidays so this morning made a change, before waking her i started housework so after she left for school all that remained to do was wash her breakfast plates.
Her brothers are still in bed and as its their last days off they can sleep in. Its so nice having the house all peace full but i know i will miss them like crazy when they are all at school i will be wishing for the next holidays. so as the house is so quiet i decided to make a quick card and the above card is what I've came up with.
Its a Sarah Kay coloured with pro markers lots of inking around the edges using hero arts inks.
The papers are a download from Summer Driggs, zooms and ribbon as embellishments.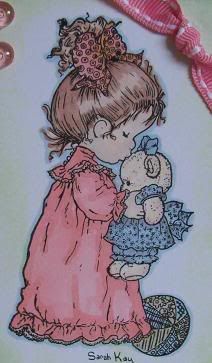 I wonder if i can get another couple of cards done before the boys wake up!