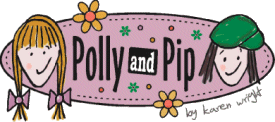 Here the news you have all been waiting for, i am the designer of a new collection of acrylic stamps called Polly and Pip, these stamps are made by Stamps Away and are available from good stockists, they look fantastic on the website and look even better adorning a card or craft project and the even better part is they only 3.25 each, now that's value for money.
You'll never believe how excited i was when i was asked if i would design a range of stamps, i was jumping around the room like a lunatic it all happened so fast. There are 12 Polly and Pips on the website at the moment and more are in line waiting to be turned into acrylic cuteness.
Keep checking in as there is also more news on the horizon.
I will leave you with a card using Pip the Chef.