Time is ticking by and the way the months are flying past i thought i'd better get started on my christmas shopping, so ive had a successful couple of days, a few bargains and not much more to buy now. So as i was in a festive mood i made a few more christmas cards up, i am slowly working my way through my order list, i want everything completed by the end of november so i can then concentrate on my own cards and craft items.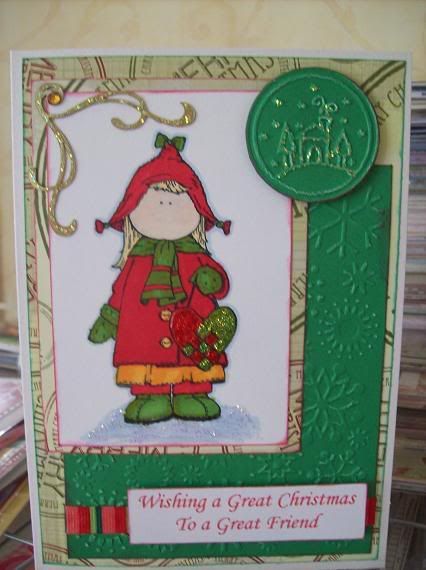 this card is a hanglar & Stanglar image coloured in promarkers the swirl was a gift from a friend Tracy (link in my side bar) flowers are prima, and the cards stock and circle snow village are embossed with the cuttlebug.
snowman stamp by Judi kins, paper was last years so cant remember (sorry), cuttle bug embossing and lots of stickles.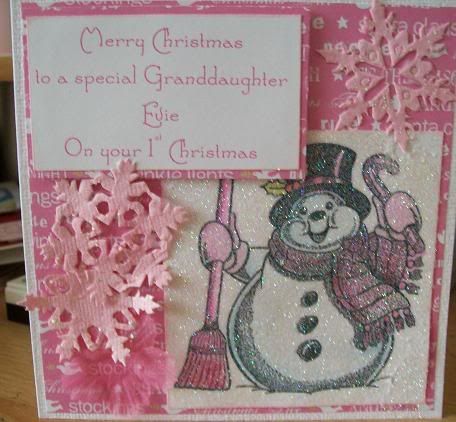 Stamp same as above this time it has been covered in dazzling diamonds by stamping up. snowflakes are prima, paper id DCWV since taking this picture ive also added a heart button in the bottom left corner and added bling around the sentiment.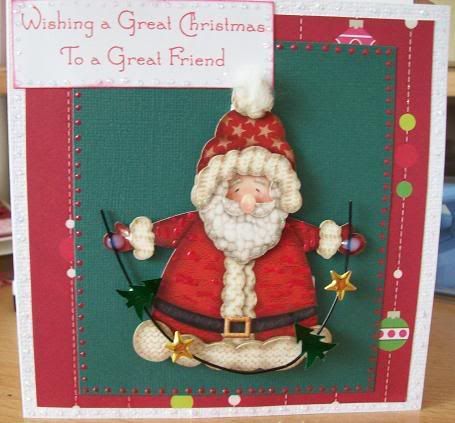 Ive Cheated a little on this card, the santa is a 3D gift tag from the pound shop, ive covered the To and From with liquid pearls. you get around 7 or 8 images on one sheet so for only a pound they are a bargain and make very quick cards.