MY cricut that is, I'm lovin it.
I made the mistake of not getting the design studio at the same time and now ive not got enough pennies for it for another week or so, i can see the potential of the cartridges with the DS, but heyho its still fab (fab does anyone still use that word?) with out the DS. with my first couple of cards i just jumped straight in and made a card, i didn't practice or anything, that's how easy it is to use they are really basic but practice makes perfect. On Saturday i met a friend Susan and borrowed a couple of cartridges off her My World and paper dolls, (i must say i love the paper dolls, not so much for the dolls but for the accessories there is everything from dinosaurs to wedding cakes, this is a very versatile cartridge)
Because its new i can see lots of my cards having all things cricut on them but i will calm down and start mixing and matching stamps and cricut, and when i get my DS i can also make shaped cards like the wonderful
Tracy
Her are the cricut cards to date, there would of been more but last night we were at a family 18th birthday party so the afternoon saw me at the hairdressers getting my hair cut really short and some red put in the front and the evening i was booging away on the dance floor, this morning i was a little worse for wear, but nothing a couple of paracetamol didnt cure.
this card was inspired by tracys ampersand card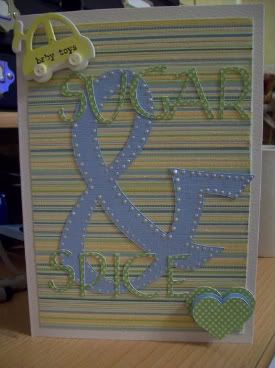 the following was the very first card i made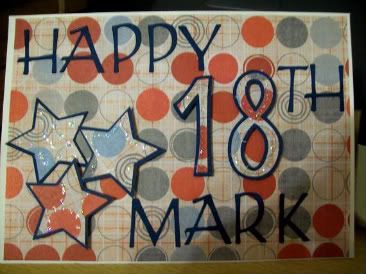 the following was a quick makes for my nephew Jaccob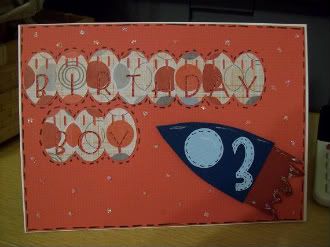 a wedding one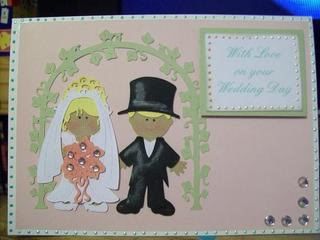 finally a floral one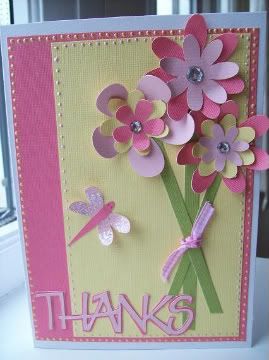 I've also included this card because i didn't want my promarkers to feel left out so i had to colour an image and made this simple wedding card. image forever friens, papers K&Co, ribbon and charm from stash, prima flowers, liquid pearls.